This year has been kind of an odd one for reading so far, but I'm enjoying it as always, and appreciating the relaxation it provides. Self care, self care, self care! :) I'm still plugging away on
Erin's 6.0
challenge, just 4 books left!! :)
The Bone Witch by Rin Chupeco*
3 - 3.5 Stars - I recommend if you enjoy fantasy as well as something like Memoirs of a Geisha. It reminded me quite a bit of that.
This book follows Tea who learns at a young age that she is not like other children. She has the gift of raising the dead. Taken in by the asha, she is trained in the arts as well as darker skills. She'll soon find it hard to determine her friends from enemies.
This book is extremely complex in the beginning. The world is built up quickly and there are a lot of names and roles to keep track of. Once I got a bit further in, the plot took over again, and I didn't feel as confused. The book is told in two times the present, and the past. Tea has been exiled in the present, and she explains why throughout the book. A lot of Tea's training reminded me a bit of Memoirs of a Geisha. Tea houses, ornate costumes, music and dancing skills to entertain. Most of the book revolves around that. Intricate settings, outfits, etc. Entertaining at tea houses, etc. I found this book to be missing the action or intrigue that I come to expect with a fantasy novel... but it was still enjoyable. I'm very interested in the magic system, world building, and where the series will go next. I will probably read it, hoping for more action as the series goes.
Sneak Peek of "We Are Okay" by Nina LaCour*
5 Stars - I recommend this if you are interested in well written YA contemporary fiction. This story was packed with colorful characters, emotional depth, and intriguing relationships.
This story follows Marin who grew up with her grandfather as her guardian, books as her true love, and getting a good Catholic education. When her grandfather dies unexpectedly she runs away from California, to her college in New York, cutting all ties with everyone she knew. She left that world and those people behind, because the pain was too much. When Mabel, an old school friend comes to visit Marin over winter break she's torn between her new life and confronting her past.
I really only read a tiny bit of this since it was just a sneak peek... but I am already hooked by the story. The characters are so interesting and complex, the relationships are as well. I definitely want to see where the story will go. I hope for more flashbacks with her grandpa in them too. I can't wait to get my hands on a full copy of this. As a side note... this cover is awesome.
Saga, Vol. I by Brian K. Vaughan and Fiona Staples
5 Stars - I recommend if you enjoy science fiction, or if you are looking for something different to read. I don't love sci-fi, and I had only ever read one graphic novel before this... but I really enjoyed this one!
This graphic novel follows Marko and Alana, two soldiers from different planets as they embark on a journey to start a family and a new life in a dangerous world. It begins with them having a baby, and follows their journey as they are hunted down by members of their own races, as well as other galactic forces who know that the news of their interracial baby threatens the way their world works. Think action-packed, sarcastic, sometimes explicit Romeo & Juliet.
As I said above, I don't read a lot of sci-fi. I don't generally gravitate toward sci-fi movies or anything else, but I had heard really good things about and really LOVED this graphic novel. The illustration, story, dialogue, etc. were very fresh and entertaining. I think it took me about 2 hours to read. If you're looking for something different, or to read a graphic novel, I highly recommend this one. However, please keep in mind this is rated M (mature), so if you're offended by explicit language and sexual content, this is not the graphic novel for you. I didn't find it overly gratuitous, but it's there. I passed it along to KC who also read it in a few hours (during March Madness basketball, lookout!), he loved it too. I can't wait to read the next volumes. Currently recommending this to everyone I know.
Sex Criminals #1 by Matt Fraction and Chip Zdarsky
3 - 3.5 Stars - I recommend if you are looking for a graphic novel that's funny, and about sex. I've got mixed feelings on this one.
This graphic novel follows Suzie, who has the odd ability to stop time when she has sex. Then she meets John, and she finds out that he has the same ability. When you have sex and stop time... what else is there to do but rob banks?
I had heard really good things about this graphic novel. I was looking forward to a funny, witty, sexy comic about time-stopping, bank robbing shenanigans... but I have some conflicting feelings.... On the one hand, I appreciated a heroine who was body positive and owned her sexuality, on the other hand, I found this a bit gratuitous (yeah, I know it's called "sex criminals")... and a little bit stark. I was hoping for a little bit of sex, and a lot of shenanigans... but it ended up being a lot of time spent in adult stores and reviewing awkward middle school sex experiences. I understand that the characters need background, and that it's not meant to be a one-sided funny sort of thing.... but I found it a little depressing. Parts of it were definitely funny, and the idea is clever, but I wanted more of Suzie and John's relationship, and their quest to use their frozen time.
Outlander (Outlander #1) by Diana Gabaldon
5 Stars - I recommend if you are looking for the perfect blend of romance, historical fiction, and action adventure. Oh yeah, and there's time travel in there somewhere too.
This book follows a former WWII nurse named Claire as she explores the Scottish Highlands with her husband Frank. While she's exploring ancient ruins one day, she gets pulled into the 18th century, where she's promptly abducted by a band of Scottish men. She then meets Jamie Fraser, a dashing young Scot. She has every intention of getting back to the ruins and returning to the 1940's ... but it quickly becomes much more complicated than it seemed.
You may have already read my Outlander post... but... I had this book from the library, and for several weeks I just stared at it. It's so majestically huge that I couldn't start it. However, once I did, there was really no going back. There is a reason so many people like this book, it's got so much of everything and it's not boring... at all. There's so much adventure, romance, historical intrigue... It's just a blast to read. I was way more swept up in the plot than I thought it would be. I also read a lot of this while I was at home sick. I may or may not have been sobbing and then coughing in quick succession repeatedly during several scenes. Luckily, only the cats were home to witness it. There are some seriously squirmy disgusting things that happen in this book, but it's kind of like GOT* in a way, it fits with the world that the story takes place in. It's not nice and fluffy, it's scary and brutal. Which I think makes the nice things in this book even happier. I have to say for such a long book... I really didn't get bored. I can't wait to watch the show now.
*after thought, and after watching most of the 1st season of the show... the brutality and explicit nature of so many scenes (written and on screen) are a lot easier to stomach in this than GOT. Like a lot, lot easier. There are less completely awful and nasty characters and prostitutes, and more examples of love and war. - if that makes sense.
*time travel category for Erin's 6.0*
Just Ella by Margaret Peterson Haddix
4 Stars - I recommend if you enjoy fairy tale retellings and middle grade novels.
This story follows Ella, a commoner who has won the affection of the prince. She's taken to the castle to learn the way of the royals before her wedding. However, life in the castle and with the prince isn't what it seems, and Ella doesn't like it very much at all.
This was one of my very favorite books in middle school. One of the handful that I still own. I wasn't sure what it would be like to re-read it. I certainly knew that the contents that had shocked and surprised me back when I was 11, would not now in the same way. I don't think I'd ever read anything quite like it. I'm happy to report... that after a second read, I still love it. 15 years later. Of course it was less shocking, and much much easier to read, but the story was still charming. I found the spin on Cinderella fun and filled with that whole, "you don't need a prince to save you," idea. I'm excited to check out the companion books, and someday recommend this to my youngest sister.



Palace of Mirrors by Margaret Peterson Haddix

3 Stars - I recommend if you liked Just Ella, or if you like middle grade fiction. Keep in mind you don't need to read Just Ella to read this one. It could be stand alone for sure.

This book follows Cecilia, a princess in hiding in a small village. She's being hidden as a commoner so that's she's not killed the the assassins who killed her parents. All along there is a fake princess in the castle, Desmia. When her location is compromised, she heads off with her best friend Harper, to her rightful home, in hopes of resuming her family's reign at the palace of mirrors.

From the start this book felt more juvenile than Just Ella. I'm not sure if it is because it was written later, or if Cecelia is especially childish... either way, I didn't like it quite so much right off the bat. I liked Harper and I liked their interactions... but overall I felt like Cecelia was whiny. "Didn't they know who I was?" "How could they not tell that I was important?" "When I take the throne, I'll punish them...", "but I'm the true princess!" etc. In the end the book was cute, and all right. I could see a middle-grade reader enjoying the series. I would say that I enjoyed Just Ella quite a lot more.

*favorite author category for Erin's 6.0*
Currently Reading:
A Fork in the Road edited by James Oseland
Mermaids Singing by Lisa Carey
Books on Deck:
Here are some of the books I'm hoping to start/finish/re-read soon, and obviously working on
Erin's 6.0 challenge
too! So far I'm 6/10 or 120 points after Palace of Mirrors.
The Witch of Portobello by Paulo Coelho
The Life Changing Magic of Tidying Up by Marie Kondo
The Dry by Jane Harper
Rebecca of Sunnybrook Farm by Kate Doublas Wiggin
A Court of Thorns and Roses by Sarah J. Maas (re-read)
The Wonderful Wizard of Oz by Frank L. Baum
Linking up with Jana and Steph for Show Us Your Books tomorrow. :)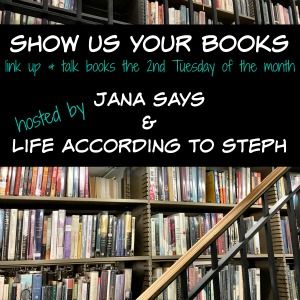 What have you been reading? What do you hope to read this year?!
* Asterisks denote titles that I was given advance access to by Netgalley in exchange for an honest review. These reviews are my own opinion, and based on the edition of the book I was given at the time. Thank you Netgalley!